Key stage 4 to Post 16 Transition
Post 16 works closely with our KS4 staff to ensure that students have a smooth transition into Post 16. Year 11's participate in Post 16 Activity Clubs and join their Post 16 peers in the dining hall at lunchtimes to encourage integration. We have well established links with local mainstream and other special high schools, attend the annual reviews for prospective Post 16 students, exchange information and arrange taster visits and meetings to introduce new students to Oakfield Park.
During their time in Post 16 all our students engage in a range of transition experiences including visiting colleges, discussing their interests and future options and lessons about moving on after school. Staff spend time helping students understand what Post 19 will mean to them on an individual basis and work with other professionals to prepare students and their families for the future and all those involved are invited to the students' annual review meetings. Students and parents are a vital part of transition reviews and the Education, Health and Care Plans (EHCPs) are designed to provide holistic and support along with the information contained on the local offer website.
Our Parent Support Adviser is able to address any issues and provide guidance around transition and other concerns.
Post 16 Transition to Post 19 Transition
The Connexions Service, through the Personal Advisor and Access Point provide students and their parents/carers with support during transition times. Students are encouraged to explore options to continue their development, participation and attainment through a range of local providers.
We have strong links with social care, supported living, local colleges and supported internships schemes enabling us to assist in identifying appropriate and meaningful destinations for our leavers.
Staff work with professionals from colleges and other Post 19 service providers to ensure smooth, calm and positive transition for our students. Information is passed on to relevant establishments through reports, observations, meetings, statements, assessments and transition and/or communication passports. Open Days and Taster Visits are arranged to introduce students (and families) to the new provision and staff come into school to get to know the students prior to the summer break.
Leavers 2022
Our fabulous year 14 students have had a fantastic journey through Oakfield Park School developing their independence, work and life skills as well as taking part in visits and sporting events on and off site and our students have been successful in gaining qualifications and taking part in lots of experiences and educational activities of various kinds.
Our 2022 Leavers have all gained ASDAN accreditation, some have also completed BTEC awards. All are now looking forward the next stage of their lives and experiences.
A really big thank you to all staff and everybody that has been involved in helping our 2022 leavers and wish them all the best for the future.
Going to Camphill College - Daniel
Supported Internship - Kacey
All other leavers are now accessing day opportunities or other health or social care provision.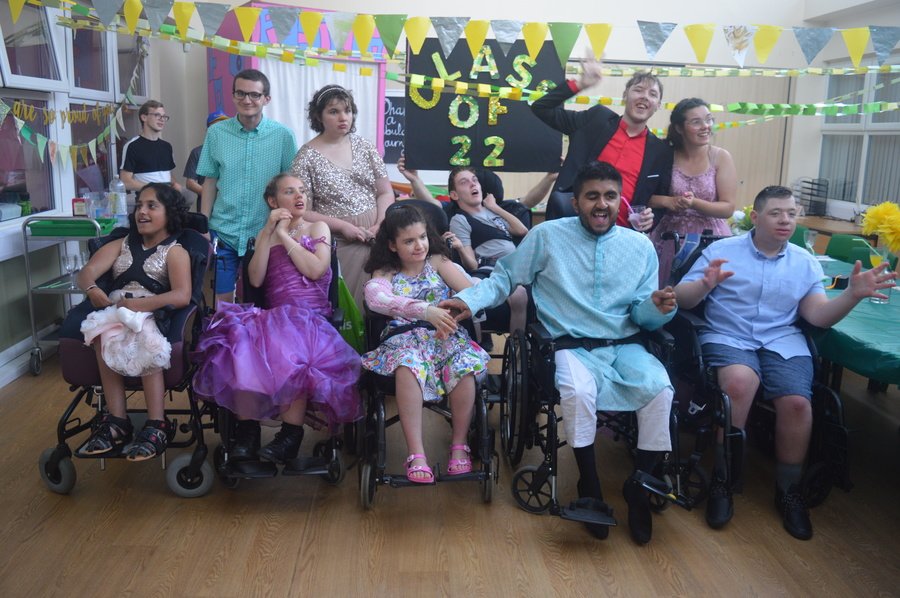 Post 16 Prospectus
Here is our latest prospectus for post 16 department.
Post 16 Home to School Transport
Please be aware ALL students need to re-apply for Home to School Transport before moving into Post 16 in line with WMDC Policy. A parental contribution will be payable, although students maybe eligible for a bursary, contact the School Business Manager for more information. Our Parent Support Adviser is able to offer assistance with applications.