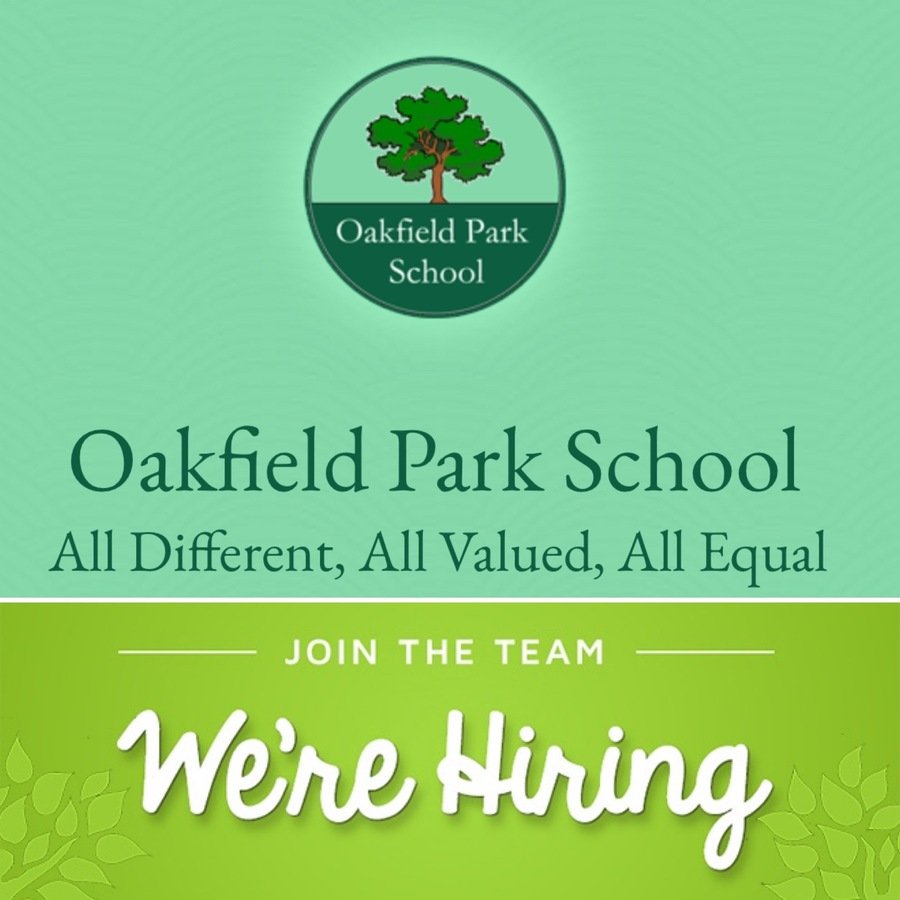 We are hiring for a number of vacancies, join our fantastic team at Oakfield Park School.
Job titleTeacher (x2 + 1 maternity cover)
Job reference 236543
Date posted 21/04/2023
Application closing date 18/05/2023
Location Oakfield Park School, Barnsley Rd, Ackworth, Pontefract WF7 7DT
Salary £28,000 to £38,810 + SEN (£2,384)
Package M1 – M6 + SEN
Job category/type School, Teaching, Term time
Job description
Oakfield Park School is a Local Authority maintained school providing high quality education for young people aged 11 to 19 years who have severe/profound and/or multiple learning difficulties. Pupils attend from across the Wakefield Metropolitan Council District. Many of our pupils have additional complex needs including Autistic Spectrum Disorders, sensory impairment, challenging behaviour and physical difficulties. The school is well equipped, providing excellent facilities and resources for all pupils. In November 2019 we were delighted to receive our second consecutive "Outstanding" grade from Ofsted. For more information regarding the school, please visit our website at: www.oakfieldpark.wakefield.sch.uk
We are looking for two Class Teachers and a one year maternity cover to join our dynamic team in September 2023.
We would be interested in hearing from you if you have experience of teaching students with:
ASD / Challenging behaviours, and/or
Complex or Profound and Multiple Learning Difficulties, and/or
Complex sensory needs
It is important that the successful candidate:-
Is an excellent practitioner within the classroom and is committed to raising students' attainment through the use of a wide range of skilled and creative teaching techniques.
Has experience in the field of SEN / Special Schools
Can be adaptable to meet the diverse needs of our students.
Has excellent communication and interpersonal skills and can demonstrate these when dealing with parents, colleagues and additional stakeholders.
Is a team player both within the classroom and across the wider school environment.
Is a hard worker with high expectations of themselves.
Can demonstrate the ability to motivate those with whom they work to share their high standards.
An opportunity to visit the school will be available prior to the closing date.
The successful applicant will be required to complete a Disclosure Application Form and to provide criminal conviction information.
Completed application forms should be returned to snagy@oakfieldpark.wakefield.sch.uk or Oakfield Park School, Barnsley Road, Ackworth, Pontefract. WF7 7DT by 12 noon on Friday 12th May 2023.
Interview Date: Thursday 18th May 2023
Closing Date: 12 noon Friday 12th May 2023.
For further details and an application form contact the School on 01977 613423 or reception@oakfieldpark.wakefield.sch.uk
Apply online at https://www.wakefield.gov.uk/jobs-and-training/
Search for job reference 236543
Lunchtime supervisors & Volunteers
Please contact School Office on 01977 613423 reception@oakfieldpark.Wakefield.sch.uk